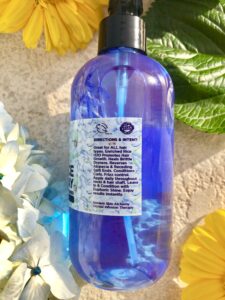 Blue Rice Hair Spray
 Enriched Leave In Conditioner
Whats The Hype With Rice?

Well its not the rice people are invested in, its the vitamins that are released in rice when rice comes in contact with heat. The Fermentation takes place naturally when left alone yet there's other ways to expel these properties WITHOUT all the stinky vibes and Im just grateful to be able to finally share them with you today. Yes, Rice water and Oil will help your hair grow. More so, it helps wit detangling and basic shine. Its a great leave in daily conditioning spray. If you swim, come on contact with any stripping water and or just need a little daily TLC Blue Rice Hair Spray will do just the trick. 

 

Ingredients: Herb Infused Organic Rice H2O, Blue Tansy Oil, Monoi Oil, Aloe Tea, Argan Butter, Jojoba Butter, Organic Blue Spirulina Tea, Calendula Tea, Organic Dried Blue Cornflowers, Lavender Tea, Rosemary Tea, Thyme Tea, Nettle Tea, Oil of Oregano Tea. Bergamot, Vetiver, Frankincense & Rose.

Intent: Great for ALL hair types. Enriched Rice H2O Promotes Hair Growth. Heals Brittle Dryness. Reverses Alopecia & Receding Spilt Ends. Conditions Curls. Frizz control. Apply daily throughout roots & hair shaft. Leave In & Condition with Euphoric Shine. Enjoy results instantly.