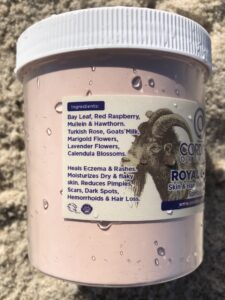 Royal Goats:
Skin & Hair Therapeutic Soak
Heals Eczema & Rashes. Moisturizes Dry & flaky skin. Reduces Pimples,
Scars, Dark Spots, Hemorrhoids & Hair Loss.
Ingredients: (ALL BLENDED TO A BABY SOFT TEXTURE
GROUND Bay Leaf
GROUND Red Raspberry
GROUND Mullein & Hawthorn
GROUND Turkish Rose
Dry Organic Goats Milk
GROUND Marigold Flowers
GROUND Calendula Blossoms
Royal Goats is Ahhmazzing. It feels like this soft velvet silk in your tub with light fragrant tones of  Lavender & Rose. I HATE bathtub debris that's left from a nice therapeutic bath so I decided to eliminate the work we have to do after. Its made for all of us to enjoy anytime day or night. You will feel lighter, and softer after just 5 minutes of soaking.
Directions and Intent:  Moisturize. Rehabilitate. Unwind. Clear
Mind. Use 10-15 capfuls in your bath and or foot soak water turns
cloudy. Immerse your body into the tub  for 10-15 minutes. Relax and
enjoy. Repeat weekly. A must for eczema, and psoriasis relief. Soothes
rashes and other skin irritations. A Natural hemorrhoid reliever too.
Its totally necessary and safe for babies. It Heals cradle cap and itchy skin on contact.