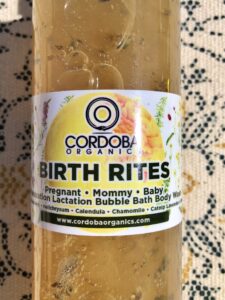 Birth Rites: 
Pregnant. Mommy. Baby. Relaxation Lactation Bubble Bath Body Wash

 
This Gemstone is chucked full of lathery goodness for you and your baby. Its made with
Red Raspberry.
Helichrysum.
Calendula.
Chamomile.
Catnip Lavender & Rose. 
Saponified Oils Of  Jojoba Oil
Directions & Intent: Moisturize, Clean & protect  your baby, belly & mind. This Relaxing Yet Euphoric herbal infused organic body gel will aid when breasfeeding while moisturizing your skin. Warm Hands. Lather & gently Apply suds everywhere. Ph balanced for private parts and daily nipple stimulation. Rub nipples in circular motions under warm water when sensitive; they will feel better with time. I promise. Breathe, Relax & Enjoy your beautiful baby and journey together. Congratulations!!