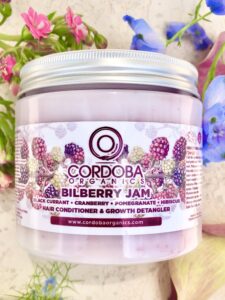 Bilberry Jam
Black Currant. Cranberry. Pomegranate. Hibiscus
Super C Hair Conditioner & Growth Detangler
Finally! Hair Conditioners, and At the Lowest Largest Size & Price for us all….I go through conditioner like water and wanted to share the best herbal infused, largest sizes for the cheapest possible price. It took me forever to figure out how to create these yet here they are. Super Silky and therapeutic for hair follicle elasticity and growth. Now onto the good stuff… Why Bilberry for our hair and What is it? Bilberry is filled with anthocyanins, also known as flavonoids. These have powerful antioxidant properties, which are great for eye health funny enough, and promotes hair growth due to its protective properties yielded in and around ones scalp. Combined with the other powerhouse antioxidants I really wanted to test the oxidation and how letting ones follies "breathe" really does wonders for relaxation and growth.
Ingredients:
Bilberry Root. Black Currant Pomace. Pomegranate Pomace. Cranberry Extract. Hibiscus Extract. Aloe Vera Extract. Olive Pomace. Saponified Oil Of Coconut. Arrowroot. Avocado Butter. Horsetail Butter. Rosemary Extract. Rosemary Oil. Bay Leaf Oil. Black Cumin Seed Butter. Flaxseed. Aloe Butter. Red Thyme Oil. Jojoba Oil. Castor Pomace. Neem Oil. Essential Oil Of Ylang Ylang. Mandarin Extract. Essential Oil Of Rose.
Directions & Intent: Can be applied dry or wet, but preferably clean & wet. Massage into Scalp liberally. Comb/Brush into one's roots & hair shaft for best results for 5-10 minutes. Rinse with warm water. Detangles & Moisturizes while stimulating hair growth. Use as often as needed. Safe For Daily use.
Offered in Big Boy sizes only because we deserve the best. I really use like half a bottle a week so I figured go big or go home for us all to enjoy.