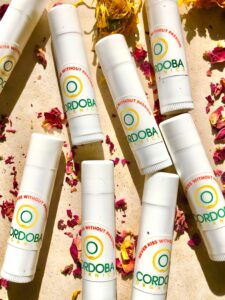 Our Vegan Unisex Lip Balm is a healing and conditioning powerhouse, carefully crafted with a blend of nourishing ingredients to provide you with soft and kissable lips.
Featuring the natural goodness of:
Jojoba Butter
Argan Butter
Vanilla Bean
Chocolate
Mocha Butter
Olive Oil
Calendula Butter
Macadamia Butter
This lip balm works harmoniously to:
Deeply hydrate and moisturize your lips, combating dryness.
Repair and soothe chapped or cracked lips, restoring their natural softness.
Infuse a delightful blend of vanilla, chocolate, and mocha for a delectable scent and taste.
Lock in moisture with a rich combination of plant-based butters and oils.
Experience the ultimate lip care with our vegan lip balm, suitable for everyone. Say goodbye to dry, uncomfortable lips and hello to a smoother, healthier pout.