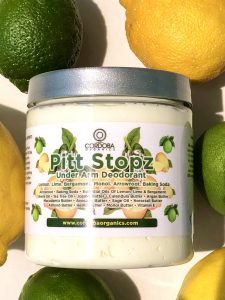 Pitt Stopz  Under Arm Deodorant 
 A Long Lasting Velvet Smooth Herbal Under Arm Deodorant Featuring Lemon. Lime. Bergamont. Monoi. Arrowroot & Baking Soda. Infused With Instant Chakra  Balancer Kyanite  
Ingredients:
Arrowroot
Baking Soda
Essential Oil Of Lemon, Lime & Bergamont
Neem Oil
Tea Tree Oil.
Jojoba Butter
Calendula Butter
Argan Butter
 Macadamia Butter
Avocado Butter
Sage Oil
Horsetail Butter
Almond Butter
Hemp Butter
Monoi Butter
Vitamin E 
Directions & Intent:
Darker Pits? Keep Your Body Odor At Bay All Day by conditioning you're under Arms Organically. everyday. Make contact with your pits by applying a small amount of butter under each arm with your actual fingers. We rarely touch our under arms & it's time to heal our pits daily by rubbing under each arm with a little extra herbal TLC. Apply Daily.